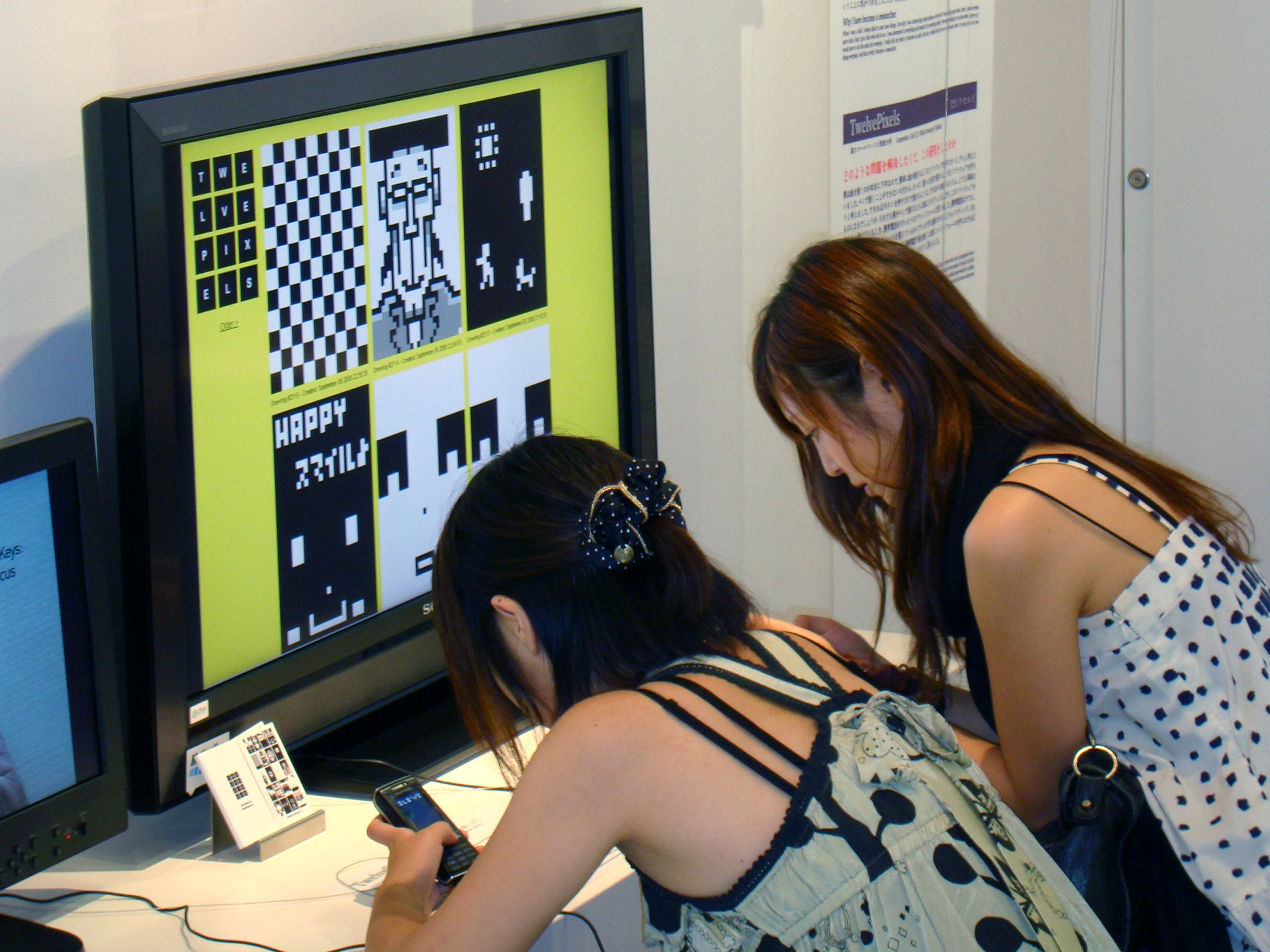 How we draw depends on the tools we have: drawing with a pencil is very different from drawing with a brush. The 12Pixels project attempts to create a new type of digital "brush", a set of techniques and algorithms that allow us to draw with very simple input devices, such as the twelve keys of the mobile phone.
Creating such a "brush" leads to a whole new range of creative applications that can be enjoyed anywhere casually without having to use a PC. Examples include, but are not limited to, annotating digital photographs taken on a mobile phone, creating personalized emoticons for text communication, drawing characters for mobile games, and sharing all this new content with millions of other people.
12Pixels was developed together with Ivan Poupyrev at Sony CSL and was first released as a free application/service in Japan in March 2009. This release allowed users to create 'emoji' icons to be included into rich text emails commonly used in Japan. It also included a crystal accessory service where users can submit their 12Pixels drawings to Ginza-based jeweler Lights Style to turn their drawings into fashion accessories such as dog tags, mobile phone stickers, and key holders.
As of November 2010 12Pixels comes pre-installed on the Sony Ericsson Cedar™ handset and is now widely available in Europe, the Middle East, Africa, India, China, and in other parts of the world.
Created By: Karl D.D. Willis & Ivan Poupyrev
Research Paper: 12Pixels: Exploring Social Drawing on Mobile Phones
Awards: Best Presentation Award @ Pervasive 2010, Tokyo Interactive Ad Award (Bronze)
Special Thanks: Testu Natsume, Sony Marketing Japan, Sony Ericsson Sweden, Imaginative
Selected Press: New Scientist Magazine, Inventing Interactive, Jean Snow, CNET Japan, Nikkei Trendy Net